Ever wonder what a successful coaching business looks like "behind the scenes"?  Each one is different; here's a look at what makes mine tick.
My team of virtual assistants, in alphabetical order.  I highly recommend each of these ladies.
Brittany Dunlap. She helps me with my social media presence and speaking gigs. She's a busy mom with 3 young children, so she understands multi-tasking and late nights on Facebook! She helps solopreneurs and small businesses build their brand on social media: Social Media Done For You: brittanydunlap@rocketmail.com
https://www.linkedin.com/in/brittanydunlap   http://www.pinterest.com/brittanyadunlap
Darcee Sellers. Darcee specializes in InfusionSoft, the system I use for my ezine and email marketing. She also handles my web site needs. She is the "secret weapon" working behind the scenes for many top online business leaders. http://yoursavvyva.com    darcee@yoursavvyva.com
Melissa St. Clair. Melissa is my Client Care Manager, helping to bring new clients on board easily, schedule their appointments and handle various administrative tasks. As a military spouse, being virtual allows her to run her business, Paper Chaser, anywhere. http://paperchaserbiz.com/     http://www.facebook.com/paperchaserbiz
Since we're working together virtually, all our tools are online.  We rely on:

Asana.  A free project management tool.  Very easy to learn, you can create projects, assign tasks and due dates to people, and have email chains associated with each task.
Dropbox.  Free or low-cost cloud storage, allowing you to share files with others.  It can also mirror your computer files, so you can have synchronized version of files on your computer and also in the cloud for mobile access.
Google Calendar.  I am totally dependent on this tool!  I share my calendar with my assistants.  Melissa and I both schedule events for me here.  You can create multiple calendars, plus color-code calendars or individual events. When sharing a calendar, you can determine what level of access each person has.  You can also invite people to your scheduled events, so that email notices are sent to each invitee.
InfusionSoft.  This is a powerful email marketing tool, and much more.  I call it the Ferrari of email tools because it's impressive, with a lot under the hood, and it's complicated.  My old email system was aWeber, which I could use myself.  When I switched to InfusionSoft, I realized I didn't want to learn this complicated system, so I switched virtual assistants to find one who was already trained in this system. Darcee uses this to send out all emails to my list, including this one you're reading.
Send Out Cards.  I love staying in touch with my clients through Send Out Cards.  What led me to start using this system were the beautiful cards created by my former Mastermind colleague, Sheila Sylvestre. Her images and words are so beautiful http://whispergreetings.com/art-of-life-purpose/ They reflect the feelings I want my clients to have.
And then there are my cats!  These two keep me laughing and more anchored in the NOW, vs. the future of my business plans.  Here's a selection of Dash (gray tabby) helping me over the years, followed by one taken just this week of Amber on my office bookshelf.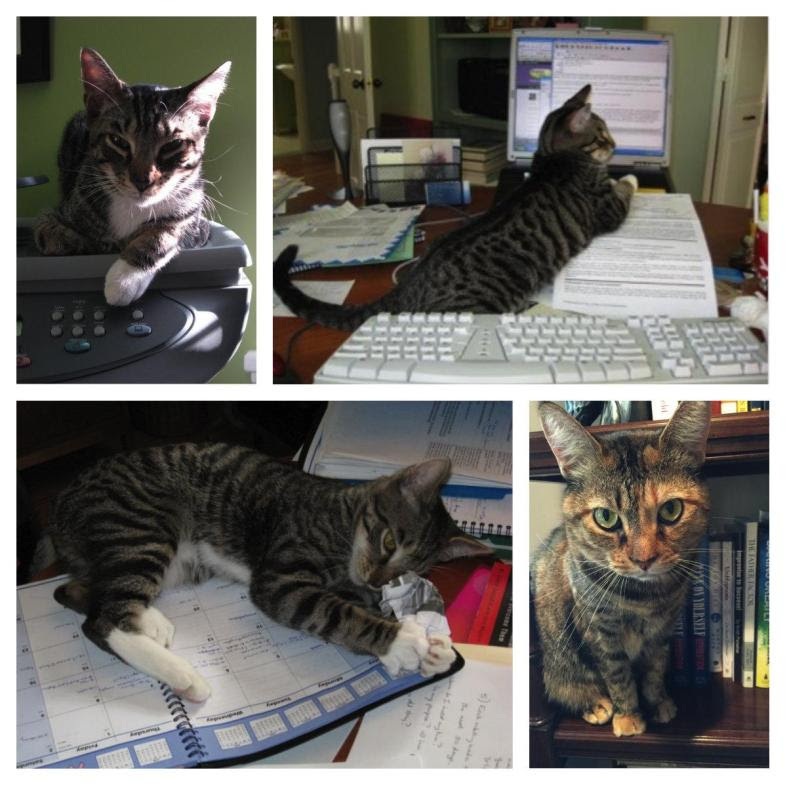 CALL TO ACTION
What is behind the scenes at your business?  If it's just you, and your business is more than a few months old, then there may be a problem.
You need support: both practical and moral/emotional/energetic.  Being an entrepreneur is like running a marathon.  Just like serious runners need support with their training plans and keeping their body fit to reduce fatigue and injuries, entrepreneurs need support too.
You're in your own marathon, in which you are expending your time, energy, love and money to bring your passionate purpose into the world and make it a better place!  That's nearly super-human to do on your own.
Support allows you to stay in income-producing activities, and in your Zone of Genius, where you excel.  Eventually, you want to outsource everything that is not in your Zone of Genius. The sooner you come to that, and hire help, the better you'll feel and the faster your business will progress.  Otherwise, you stay in your Zone of Incompetence or Competence for way too many hours/day.
If an outside opinion and expert mentoring on mindset, marketing or leadership is the support you need NOW, to move your business to a new level, then I invite you to contact me for a complimentary private call.  On this call, we'll explore your business goals, what's getting in the way and whether coaching together makes sense.  I am not attached to the outcome of this call.  You can easily contact me at success@marcystahl.com.